2023 PICCOLO + SPOLETO 'Black Mermaids' exhibition offers 120 works to combat 'Disney cutesiness''
by Natalie RiethMay 19, 2023
Twitter
Facebook

"Oya" (above) by Ashley Brown is just one of more than 100 works of art in Celebrating Black Mermaids.
Torreah "Cookie" Washington of Charleston deliberately set the opening of her latest fine art curation as a bit of clever counterprogramming.
The weekend of May 26 marks the opening of Disney's live-action remake of The Little Mermaid but also — as a corrective to what she described as Disney's "cutesiness" — it's the opening of Celebrating Black Mermaids: From Africa to America, an exhibition of more than 120 mixed-media works.

Washington
As a celebrator of Black mermaid mythology and a mother and grandmother to girls, Washington says she isn't fond of the fairy tale's overarching message.
"Black mermaids are regarded as goddesses, and I don't think any of them would give up being a goddess to get out of the water and marry a prince," Washington said. "I'm hoping that African American little girls come away from the show with a sense of pride, rather than wanting to be Ariel."
Ranging from photography to fiber art, the Celebrating Black Mermaids exhibit enlivens stories of African goddesses as mermaids and water spirits. On view at City Gallery at Waterfront Park until July 9, the exhibit will have its opening reception from 2 p.m. to 5 p.m. May 27 at the gallery, preceding an ancestor blessing by Ashanti Kingdom High Chief ​​Nathaniel B. Styles Jr. earlier in the day.

40 centuries of worship
Mermaid and water spirits have been worshiped for more than 4,000 years, predating the worship of Jesus Christ, Washington said. Over time, the half-human, half-creature depiction of African water spirits combined with the European depiction of the half-human, half-fish we know today. Celebrating Black Mermaids delves into these millenia-old beliefs, which are passed on through oral traditions, and honors the significance of Black mermaids historically as well as in the belief systems of those forcibly removed from Africa.

Internationally recognized artist Tony Williams made three pieces for the show, including "Yemaya Black Mermaids." | Images provided.
"We have seen a large array of what European cultures deem is what a mermaid is, but all cultures have some form of water deity, and from those water deities, mermaids exist," said Ohio artist Tony Williams. "It's important that all those cultures be celebrated. It's important to see the representation of oneself."

Williams, internationally recognized for his indigo works, made three pieces for Washington's show: "Mermaid Warrior," a life-size quilt with cowry shell and iridescent fabric detailing; "Yemaya Black Mermaids," a painting on dyed pulp paper; and "Olokun," an articulated paper work that captures the swimming motion of the African deity. His work explores indigo, batik and African kola nut dying practices, all rooted in his own ancestral studies.
Michigan fiber artist Toya Thomas's featured quilt, "Better Than Bondage," conceptualizes a scene from the movie Amistad of a mother throwing herself and her child overboard. Having experienced the pains of enslavement overseas, many forcibly removed Africans chose to end their lives to escape, she said. Thomas's quilt retells this story by adding a mermaid who receives them and carries them to a better place. As a tribute to the journey of her ancestor Thomas from Africa to America, she crafted the mermaid in her own likeness.
"I hope that people come away with an appreciation of the art, but also become more knowledgeable of the stories that each piece has to tell," Thomas said.
California-based textile and installation artist Patricia Montgomery's mermaid doll Alabaster portrays the mysterious African water goddess Mami Wata, whose powers were known to grant wealth, power and fertility. Before ritual dances were outlawed in America, enslaved Africans worshiped Mami Wata by playing music and dancing into a trance-like state.
"She's the doll that can dance with us today," Montgomery said, "allowing us to have that same feeling of being connected to something bigger than ourselves." The doll's body is fabricated with batik fabric that Mongomery said embodies Alabaster with rhythm and movement, and is embellished with alabaster and cowry shells, beads and crystals.
Washington said the show, which includes more than 80 artists, will be even bigger than a Black mermaids exhibit she mounted in 2012, also at City Gallery.
"In history books we are not talking about Black women," Washington said. "And I want Black women and girls to know that the story of Black women doesn't start on a plantation somewhere in the South. We are not coming up from slavery. We are descended from being worshiped as goddesses and queens."
Natalie Rieth is an arts journalism master's degree student at Syracuse University.
Celebrating Black History: Tony Williams Indigo Dyed Garments
Updated: Feb 10, 2021
Tony Williams is a Cleveland based artist whose work has been shown in numerous local and national juried shows international shows. He has also completed several public art projects including Year of the Horse and Year of the Sheep sculptures in Cleveland's Asia Town and the 100 Leaves sculptures in Beachwood. He serves on the board of the Morgan Conservatory and is an instructor at Praxis Fiber Workshop. Tony Williams is currently writing and illustrating children's books as well as making wearable paper art dyed with indigo.
Indigo, a vibrant deep-blue dye, is derived from the Indigofera Tinctoria plant family. The dye process requires boiling or steeping and fermenting the leaves of the Indigo plant. Once the fabric is dipped into the dye and lifted into the air it almost magically turns blue. Indigo was cultivated in India, Indonesia, China, Japan, Korea, Mexico, Guatemala, Haiti, Peru, and Africa. Each country has it's own history and traditions of using this dye. The oldest known fabric dyed indigo, dated to 6,000 years ago, was discovered in Huaca Prieta, Peru.
Indigo was the foundation of centuries-old textile traditions throughout West Africa. It was commonly sourced from two plants: Indigofera and Lonchocarpus Cyanescens. From the Tuareg nomads of the Sahara to Cameroon, clothes dyed with indigo signified wealth. Women dyed the cloth in most areas, with the Yoruba of Nigeria and the Mandinka of Mali particularly well known for their expertise. Yoruba dyers paid tribute to a patron deity, Iya Mapo to ensure the success of the complex dye process.
Transforming the raw material into a successful dye vat was a complex process requiring great expertise and liable to unexplained failure. It was usually surrounded with ritual prescriptions and prohibitions. The primary ingredients were dried balls of crushed leaves from indigo bearing plants, ash, and the dried residue from old vats. Cloth had to be dipped repeatedly in the fermented dye, exposed briefly to the air, then re-immersed. The number of dippings, and the strength and freshness of the dye determined the intensity of the resulting color. After the dyed cloth had dried it was customary to beat the fabric repeatedly with wooden beaters, which both pressed the fabric and imparted a shiny glaze.
This rich history informs all of Tony Williams' work. He celebrates his ancestry as well as the importance of indigo's many spiritual and cultural aspects through continuing the craft of indigo dyed garments. The resulting shades of blue are not only strikingly beautiful, but they also hold a cultural meaning. White is considered a connotation of serenity, insight, and age, whereas blue evokes balanced brightness, richness, and depth.
AIR 2021: Tony Williams
Tony Williams is a multimedia fiber artist working with indigo and paper. During his time as a creator Williams has explored drawing, painting, commercial art, costume design and teaching. He now works with indigo dyes and paper to explore heritage. Through this exploration, Williams pay homage to his ancestors by looking back and understanding what the cultural aspects of these practices are.
We are so very excited to have Tony working in our studios!
@tony_williamsartist
You can learn more about Tony on his website: https://www.tonywilliamsartist.net/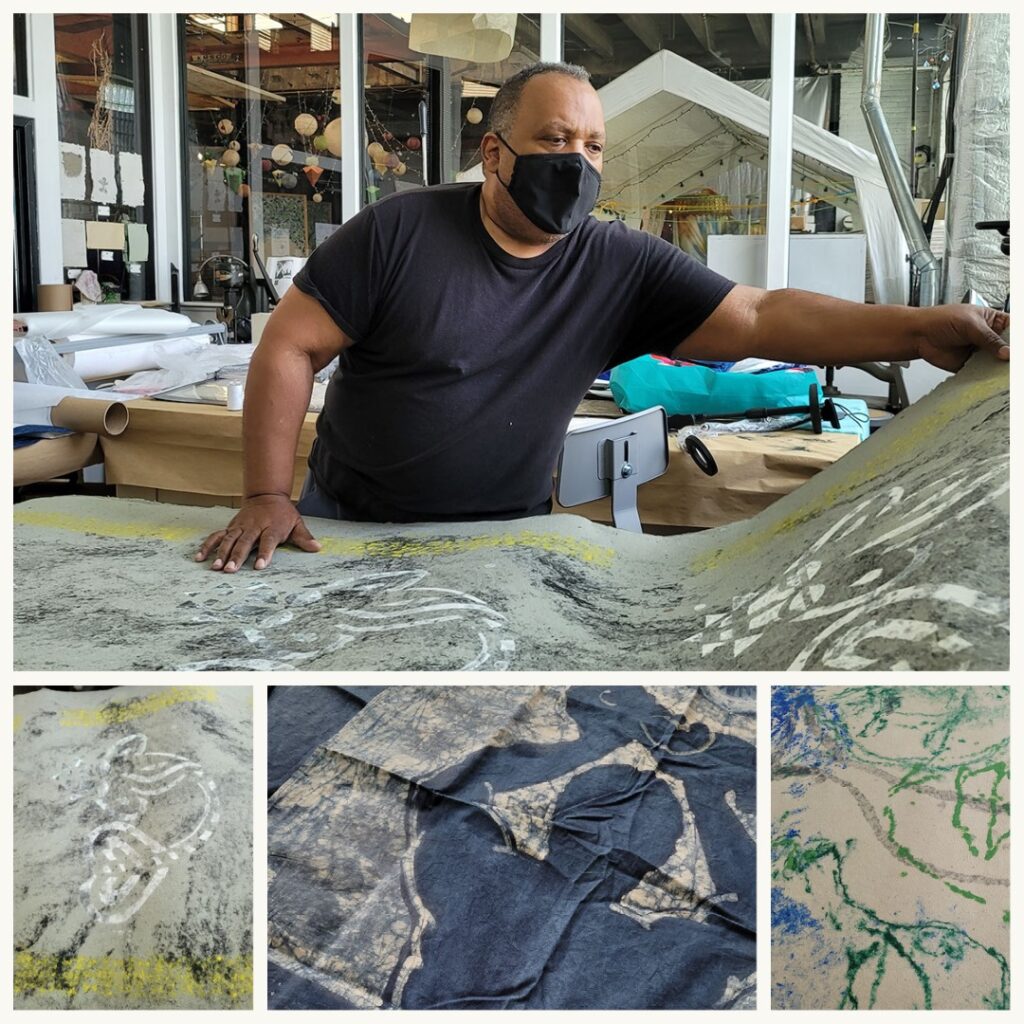 https://www.wkyc.com/article/entertainment/television/liveonlakeside/luis-gomez-jessica-pinsky-tony-williams-cuyahoga-arts-cultures-previews-a-community-dye-garden/95-9f70801a-7257-4599-a246-1d5d03109979